Say Goodbye To Migraines & Insomnia
Relieve headaches & fatigue in 15 minutes

Melt away tension and stress

Relieve tired, strained and dry eyes

Immediate and long-term results
Say Goodbye To Migraines & Insomnia
Relieve headaches & fatigue in 15 minutes

Melt away tension and stress

Relieve tired, strained and dry eyes

Immediate and long-term results
Ypsohealth™ Smart Eye Massager can effectively relax the muscle and nerves on acupuncture points around your eyes to improve blood flow, reduce headaches, and alleviating chronic eye soreness.
Get rid of the fatigue of the day in just 15 minutes!
What Our Customers
Are Saying
Research shows that massage therapy can decrease pain, tension, duration, intensity, frequency of headaches, and even reduce pain in the midst of an active migraine. A regular massage should be part of your self-care routine. Even just 15 minutes of massage showed significant physical and psychological improvements.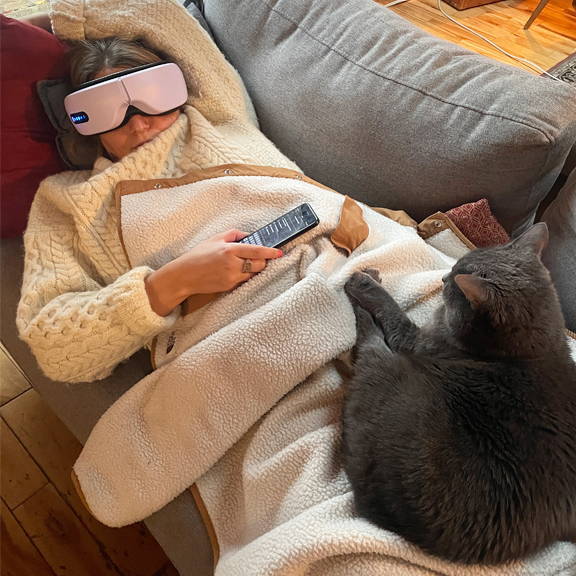 "It saves me so much money in Botox treatments. Its good, natural and very efficient"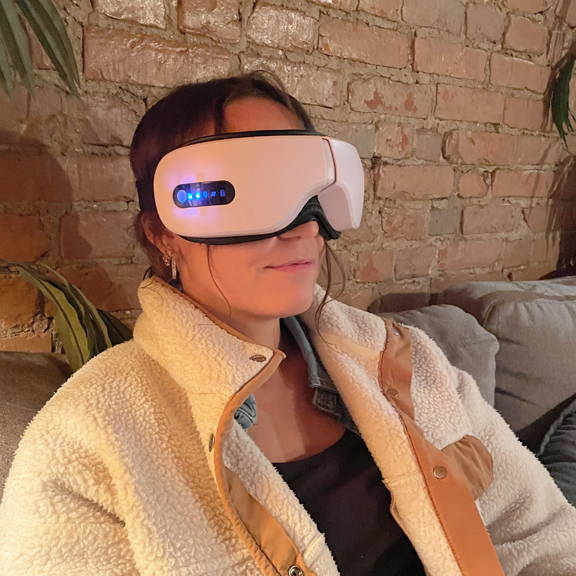 "This product gave me the exact results I wanted. My skin has a fresh look to it now."
This mask has been
a game changer
Revolutionary technology
A warm compress routine in combination with ocular massage by air pressure, which are among the well-known treatments optometrists employ, helps to stimulate tear production and increase moisture to the eye. Acupressure can relieve eye pain and fatigue, increase blood circulation around the eyes, and improve sleep quality.
How does it work?
Our eye massager's Intelligent Air Pressure technology simulates a real human massage to calm your nervous system and relieve eye fatigue. Our tech team has integrated Multi-frequency Vibration into the massager to restore the flexibility of ciliary muscle, protect vision and improve eye fatigue.
Who is it for?
If you suffer from headaches, migraines, dry and tired eyes, bad quality sleep and stress/anxiety, then the Ypsohealth™ Smart Eye Massager is perfect for you.
It's the perfect solution to fall asleep easily, reduce stress/anxiety, reduce eye bags and and no more headaches.
Unmatched
Customer Experience

Your payment information is 100% secured with SSL encryption.

Free Shipping
On All Orders
We ship every day of the week and offer free shipping on all orders.

Your satisfaction is our top priority. Get in touch, we'd love to hear from you.

We believe this is important so that you can shop with confidence.
Frequently
Asked Questions
Simply lay down in a comfortable position and put on your Intelligent Eye Massager. Adjust the straps to comfortably fit your head and hold the power button for 2 seconds. The device will turn on and automatically begin the massage with all modes active (heat, air pressure, vibration). The massage will last 15 minutes or you can stop it at any time by pressing the power button.
Is this product highly efficient or not?
Customers report that daily use of 15 minutes per day works wonders to relieve migraines. Specifically, the heat function helps our customers the most by relaxing tense muscles and relieving headaches of all kinds.
Intelligent Eye Massager is totally safe to use! The settings are never too intense for you to handle and are perfectly safe for anyone to use!
How frequent should I be using the device?
We recommend to use the massager daily.
What is Eye Massager capable of treating?
✓ Sleeping disorders
✓ Insomnia
✓ Cervical pain
✓ Muscle tension
✓ Dry and tired eyes
✓ Migraines and headaches
There are many eye massagers out there in the market, and it is important to choose your massager wisely. Ypsohealth™ is considered one of the top at-home massagers for your health and has been extremely successful in significantly providing instant relief and tackle eye-related problems.
Yes - we ship worldwide. All of our shipping options are trackable.
How much does shipping cost?
It's completely free. We like to make things as simple and as upfront as possible without any extra fees for our customers.
Real people - Real Results