30 day money-back guarantee
Say Goodbye to Migraines & Insomnia
Relieve headaches & fatigue in 15 minutes

Melt away tension and stress

Relieve tired, strained and dry eyes

Immediate and long-term results
Say Goodbye To Migraines
& Insomnia
Relieve headaches & fatigue in 15 minutes

Melt away tension and stress

Relieve tired, strained and dry eyes

Immediate and long-term results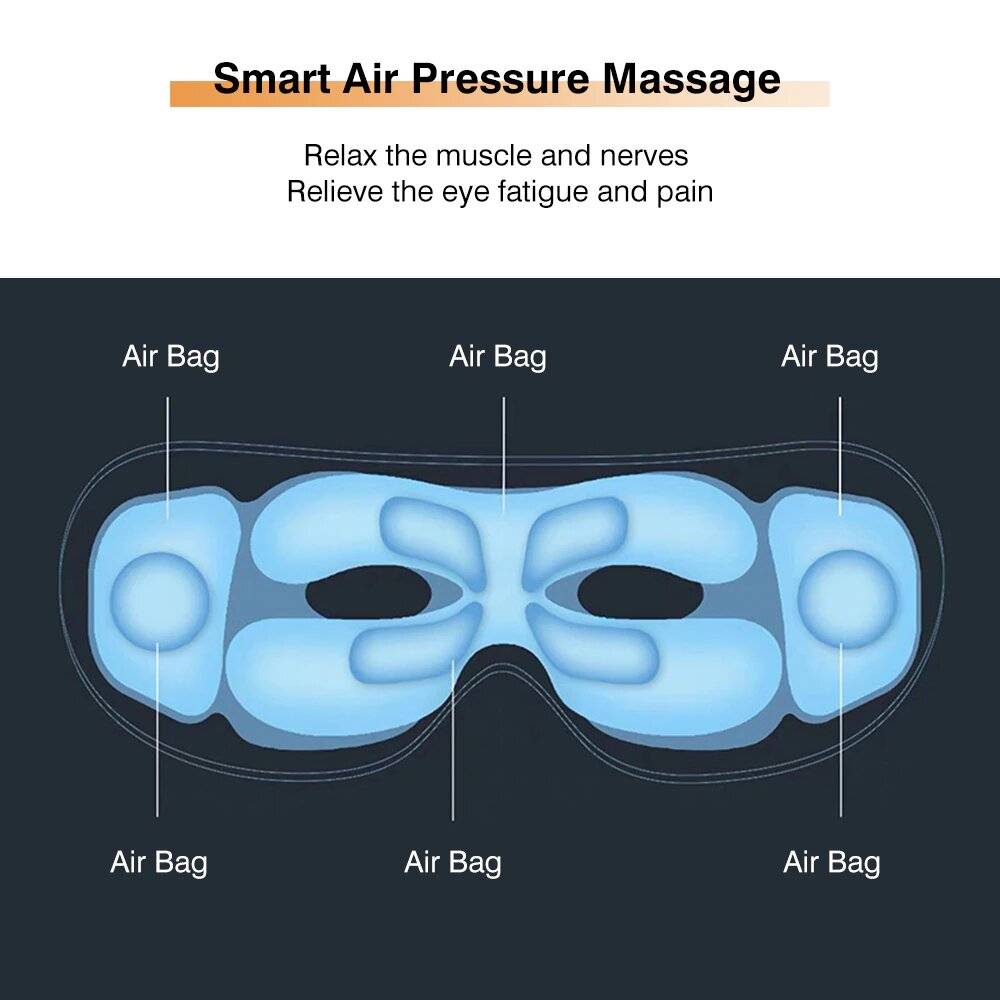 Intelligent air pressure kneading:
A warm compress routine in combination with ocular massage by air pressure, which are among the well-known treatments optometrists employ, helps to stimulate tear production and increase moisture to the eye.
Acupressure can relieve eye pain and fatigue, increase blood circulation around the eyes, and improve sleep quality.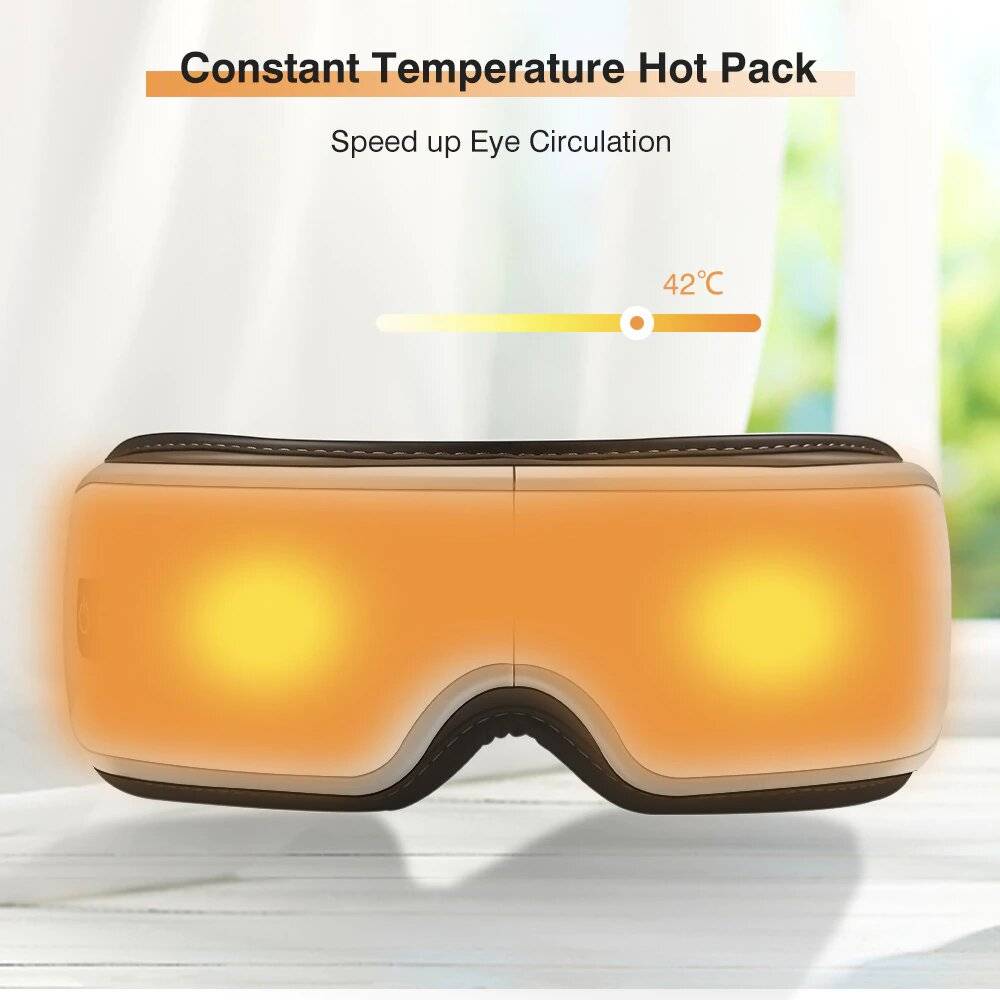 Hot compress therapy:
Built-in heating pads provide the ideal comfort zone of temperatures between 104 and 107℉ (40℃-42℃).
Relieve dry eyes with a warm compressing sensation that helps to reduce inflammation and waken the body's natural healing properties and increase blood circulation around the eyes.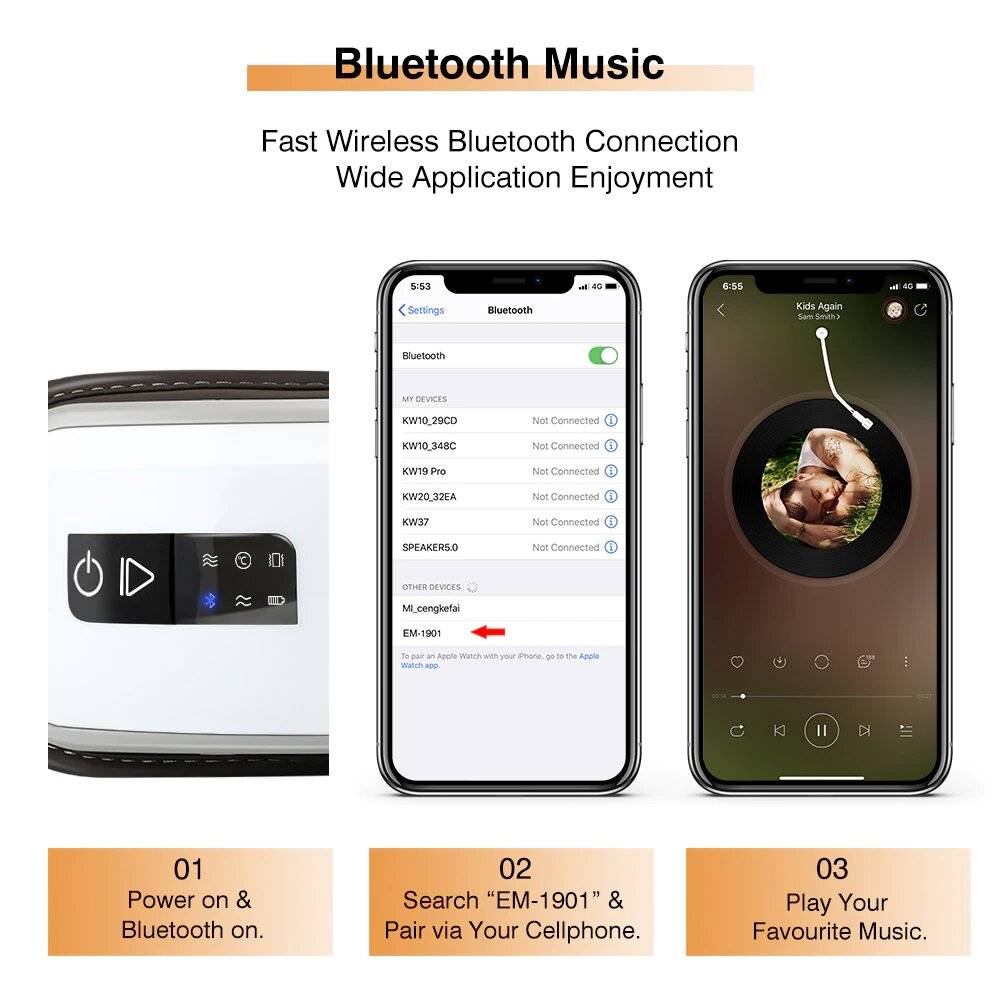 Built-in speakers:
Calm ambient tones are emitted through built-in speakers to send you into a relaxing trance or play relaxing music via Bluetooth connection.
The peaceful music is designed to simulate a natural surrounding and to better induce sleep. Our Eye Massager is convenient to carry anywhere and use it anytime.
Research shows that massage therapy can decrease pain, tension, duration, intensity, frequency of headaches, and even reduce pain in the midst of an active migraine. A regular massage should be part of your self-care routine. Even just 15 minutes of massage showed significant physical and psychological improvements.
✓ Sleeping disorders
✓ Insomnia
✓ Cervical pain
✓ Muscle tension
✓ Dry and tired eyes
✓ Migraines and headaches
Yes - we ship worldwide. All of our shipping options are trackable.
How much does shipping cost?
It's completely free. We like to make things as simple and as upfront as possible without any extra fees for our customers.
How long does it take for my order to arrive?
It depends on where you are. Orders processed in the US will take 4-13 business days to arrive. Overseas deliveries can take anywhere from 7-20 days. Delivery details will be provided in your confirmation email.
What is the maximum delivery time?
The maximum delivery timeframe during the COVID-19 period is 45 days, which is also the limit when we start processing partial or full refund requests. We feel that a customer should never wait this long for their package to arrive, no matter who's fault.
Where can I find my tracking number?
When your items are shipped out, you should receive an automatic notification from the system via email providing you with a tracking number.
If you haven't received one or if the tracking number doesn't work, no worries. Contact us and we'll solve it!
How do I operate my Intelligent Eye Massager?
Simply lay down in a comfortable position and put on your Intelligent Eye Massager. Adjust the straps to comfortably fit your head and hold the power button for 2 seconds. The device will turn on and automatically begin the massage with all modes active (heat, air pressure, vibration). The massage will last 15 minutes or you can stop it at any time by pressing the power button.
How well does this work on migraines?
Customers report that daily use of 15 minutes per day works wonders to relieve migraines. Specifically, the heat function helps our customers the most by relaxing tense muscles and relieving headaches of all kinds.
Is there any way to just have heat on and no vibration/air pressure/music?
Yes, you can use the heat function on its own or any other function on their own.
What if I have a large/small head? Will it fit any head shape?
The Intelligent Eye Massager was designed to fit any head size or shape! The strap can be adjusted to fit a very wide array of head shapes and sizes and you can make the device fit as loose or tight as you want!
Is the Intelligent Eye Massager Safe to Use?
Intelligent Eye Massager is totally safe to use! The settings are never too intense for you to handle and are perfectly safe for anyone to use!
1 - These products are not suitable for people who have had eye surgery or any of the following eye disorders or diseases; glaucoma, cataracts and retinal detachment.
2 - Please consult a doctor before use if you have had a stroke or suffer from hypertension or hypotension.
Complete your routine with
our top sellers
Real people - Real Results